Working with a licensed immigration adviser
If you need immigration advice, licensed advisers have specialist expertise.
Why you should use a licensed immigration adviser for New Zealand
Licensed immigration advisers have been issued a licence by the Immigration Advisers Authority. They have specialist expertise, have met the competency standards and follow a professional code of conduct.
The code requires advisers to:
be honest, professional and respectful
enter into a written agreement with you that sets out clearly what services they will provide you and what they will cost
provide you with ongoing timely updates
charge fees that are fair and reasonable.
Licensed advisers can help you:
explore all your visa options and choose the right visa
prepare your visa application
settle in New Zealand
assess whether you can appeal a declined visa
assess your options if you are in New Zealand unlawfully.
Types of licensed immigration advisers
There are three different types of immigration adviser licence.
Full
Can provide you with advice on all immigration matters
Provisional
Can provide you with advice on a full range of immigration matters but must be supervised by a full licence holder
Limited
Can only provide you with advice on certain immigration matters
What does a current licence look like?
Your adviser must have a current licence. Licences are valid for one year. To check, you can:
The name and licence number of the licensed adviser must be displayed next to the Trademark in all cases. Companies cannot be licensed.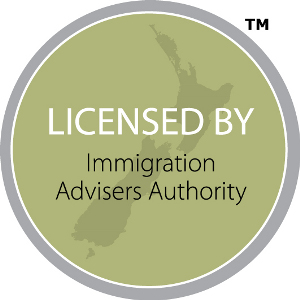 Non-current licence
There are several reasons why an adviser's licence may not be current. The licence status may be expired, surrendered, refused, suspended or cancelled.
How must an immigration adviser behave?
Your adviser must follow a set of ethical and professional standards when dealing with you. The full standards are set out in the Licensed Immigration Advisers Code of Conduct.
The code of conduct ensures that your licensed immigration adviser will:
show you evidence that they are licensed
be honest, professional, diligent and respectful
conduct themselves with due care and in a timely manner
provide you with objective advice
declare any conflicts of interest, including any commission they will receive, and seek your approval to continue to act for you
provide you with a written agreement for you to sign before any work is started which sets out the services to be provided and the fees
charge fees that are fair and reasonable
provide you with invoices with full descriptions of what the fees relate to
let you know when your application has been lodged and provide you with on-going timely updates
keep your personal documents safe and return them to you in a secure manner.
Professional standards leaflets
Licensed immigration advisers must give and explain this professional standards leaflet to every client. These leaflets are available in:
Problems with your adviser
Firstly, discuss your problem with your adviser. Explain your concerns clearly, and suggest how your adviser can resolve them. Your adviser must follow their internal complaints procedure to help fix the problem.
Make a complaint to the Immigration Advisers Authority if you cannot resolve the problem with your adviser or it is not appropriate to deal with your adviser directly.