2022-2023 Migrant survey results
Survey of New Zealand visa applicants who have used an Immigration Adviser 2022-23. Conducted for the Immigration Advisers Authority by GravitasOPG.
Presentation of results
2022-2023 Summary of Key Results from the Survey of Visa Applicants Who Used A Licensed Immigration Adviser [PDF, 477 KB]
Introduction
Since 2009, the Immigration Advisers Authority (IAA) has surveyed clients who have used a licensed immigration adviser. The aim of this research is to monitor licensed adviser performance and provide information that will assist the IAA to regulate and support licensed advisers.
The survey is undertaken using an online methodology. A selected sample of applicants who have received a decision on their application and recorded by Immigration New Zealand as having used a licensed adviser (and with a personal email address on record) are invited to participate. The questionnaire is provided in English and Simplified Chinese. Participation in the survey is voluntary and does not affect their visa application.
The survey is run by an independent research company, and all responses are confidential. The Immigration Advisors Authority does not know who has completed the survey.
Summary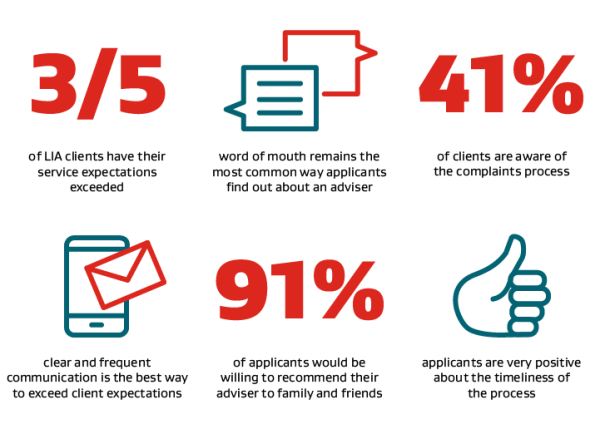 The 2022-2023 survey results show satisfaction with the service provided by licensed advisers remains high and stable. Applicants remain positive about the quality of service received from their adviser overall (89%), including 60% who are very satisfied. 5% express some level of dissatisfaction.
3 in 5 adviser clients (61%) continue to have their expectations of the service they would receive from their adviser exceeded, including 32% who described the service as much better than they thought it would be. Almost all applicants (91%) would be willing to recommend their adviser to family and friends.
Satisfaction with overall experience of applying for an NZ visa has improved significantly since 2021.
What can you do?
Refer clients to other advisers when specialist advice is needed.
Have regular communications with your clients including providing timely updates on the progress of their application.
Provide all your clients with a copy of the New Zealand Licensed Immigration Advisers Professional Standards.
Ensure all clients are aware of their visa conditions – especially students and visitors.